How is AR used in shopping?
Breaking free from the gaming industry, AR is widely used to enhance the e-commerce experience
(Image Source: IKEA Place) 
Augmented Reality applications in our everyday lives is becoming more and more well-rounded. No longer limited to the gaming industry, it has now expanded and integrated into various other industries, especially with the adaptation of AR shopping. 
Sometimes we daydream about redecorating our bedroom, living room, or a particular corner in the house, reflecting our personal style and creativity in these rooms. However, the convenience of e-commerce now means that people don't normally get to physically see the items that they are intending to purchase, unless they go down to the stores. Seeing a physical item is important, especially if it is furniture, to properly determine whether the design, size, and placement is appropriate for the interior of the room. This problem is easily solved using AR technology.
Take IKEA for example, launching their IKEA Place app for Android phones during the fall of 2017. Developed using Apple and Google's augmented reality development tool – ARKit and ARCore – making IKEA one of the pioneers of AR furniture shopping.
IKEA Place is relatively easy to use – simply make your selection of furniture on the app, then the selected furniture shows up on the screen, and you can "view" it directly in your room. You can also zoom in to clearly see what kind of fabric and colours are used. This feature is best used with larger furniture types such as sofas, coffee tables, and dining tables, and to date there are around 2,200 pieces of furniture available from IKEA's catalogue.
GrokStyle, which was acquired by Facebook early last year, is a website that uses artificial intelligence and visual search technology to help users shop for furniture. A similar form of technology is adopted by IKEA and used in the IKEA Place.
GrokStyle works with other retailers, allowing users to identify and search for similar products by pointing their mobile cameras at the furniture, or search by uploading an image. Similar products are shown, and users can directly be taken to the site to make a purchase. 
(Image Source: Shopify) 
Shopify opened its retail platform to the world, launching Shopify AR which can be run on the Safari browser on iOS 12, allowing users to view products in augmented reality, and see an accurate depiction of the size, proportions, and details of the products. Sellers on Shopify can use the 3D Warehouse app to create 3D models of the products, which they can then link to the stores, which is then easily accessed by users, giving them a unique AR shopping experience.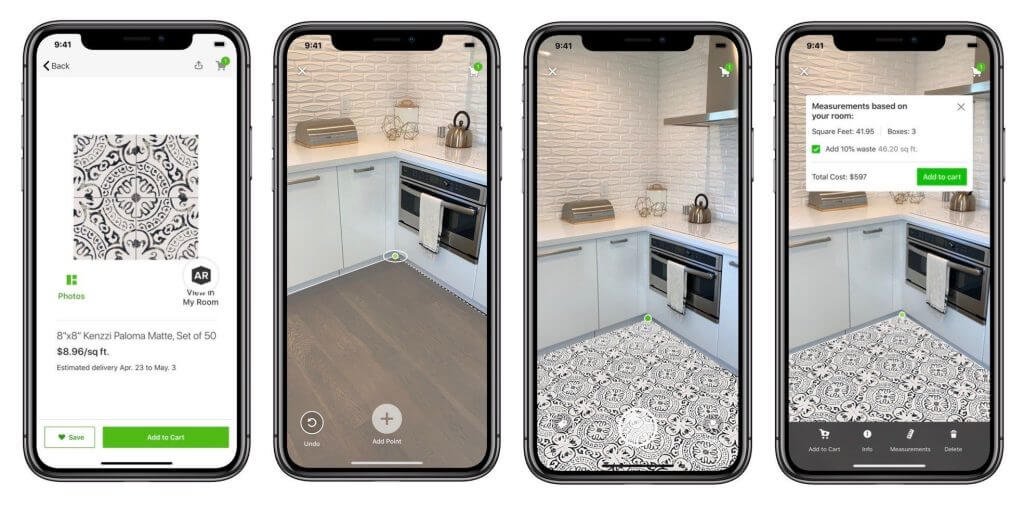 (Image Source: Houzz) 
Houzz is a platform for home decoration and design, seamlessly connecting users, interior designers and contractors. Users can directly reach out and communicate with designers and contractors using this easy-to-use platform. In addition to that, they can also review and share their experiences with these vendors, as well as exhibit the final results of the renovations.
Taking it one step further, Houzz launched their AR "View in My Room" 3D tool, which allows users to browse and select floor tiles that catch their eyes, and see how it looks in real-life according to scale and direction. At the same time, users can find out how many tiles are needed to fully cover the entire floor area without need for manual measuring. After the overlay is done, users can directly place an order to purchase – hassle free home renovation!
From IKEA to Houzz, the addition of AR services into this e-commerce shopping experience is essentially the same as the "try and buy" system that we are so used to. This reduces the fear of getting a different item from what you saw online; reduces the gap of trust and understanding between the seller and consumer; and strengthens the convenience of communication between both parties. Even without someone to assist with the shopping process, consumers can easily and accurately determine whether or not the product suits their needs.
This technology is applied not only to home furnishing e-commerce sector, but many other industries have adopted this tried and tested way to bring a convenient, new shopping experience to consumers.