AR Theme Park Experience: Shenzhen Happy Valley
Happy Valley theme park brought in 2,000 AR glasses to create a comprehensive immersive experience
In 2019, from 11th October – 17th November, Happy Valley Shenzhen brought augmented reality (AR) to their theme park. Introducing 7 AR themed areas, 9 thriller experience halls, 2 trendy AR play areas, and 10 performances, integrated with elements and characters from popular movies and mobile games such as Identity V, Eudemons Online, and New Ghost Story, to attract visitors. A large-scale EDM festival "Reality + AR" (真人+AR) was held for 4 weeks, from 18th October – 17th November, giving visitors a chance to experience two worlds coming together in one stage.
The AR experience had a total of 2,000 tickets for sale, retailing at RMB199 (~SGD39), which sold out within half an hour after the park opened up its ticket sales.  
The Shenzhen Happy Valley AR Experience
(Introduction to the park map. Image Source: Shenzhen Happy Valley)
The AR glasses that players are wearing can detect their current location, triggering the corresponding AR experiences in these particular locations. For examples, players may see Sadako and the Headless Man at the Chaowan Campus, and they can see the Chainsaw Killer and bony skeletons in the Western World. In addition to that, there are various actors dressed as these monsters, scattered all around the theme park, creating a mixed reality experience of virtual and real-world "monsters", creating more thrill and excitement for the players.
(Booths to collect the AR glasses. Image Source: Shenzhen Happy Valley)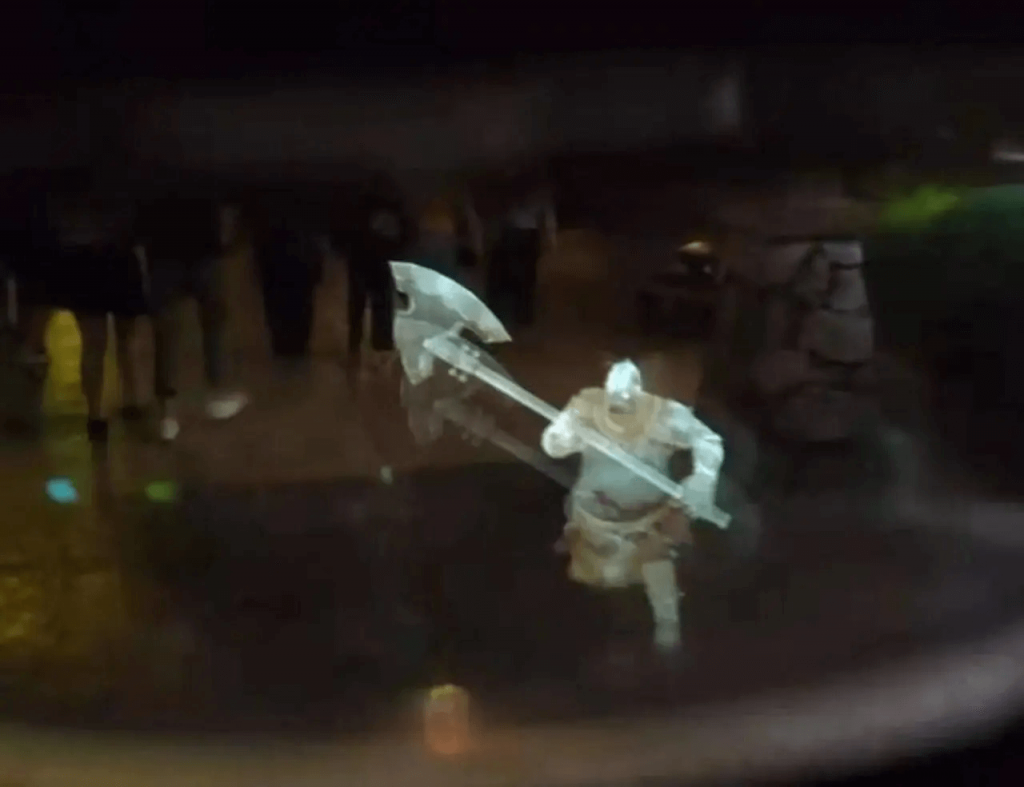 (Image as seen through the AR glasses. Image source: Shenzhen Happy Valley)
The two most popular features of this immersive AR experience are the "AR Orphanage Ghost Story" and the "AR New Ghost Story" experiences. The AR Orphanage Ghost Story unfolds in an immersive 4D cinema, where bizarre events occur, and it is up to the players to solve the mystery and complete the story. The AR New Ghost Story recreates scenes from the original movie, incorporating hidden surprises to discover, transporting players into a new world where the virtual and real-world items are intertwined and indistinguishable.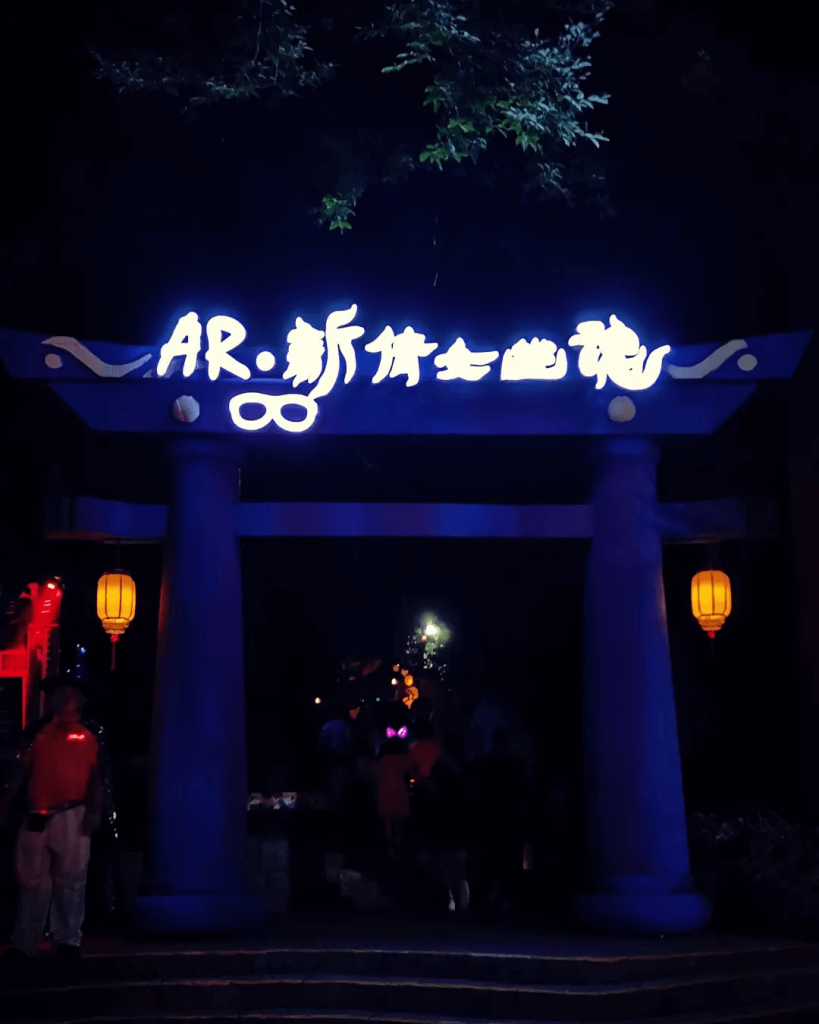 (AR New Ghost Story. Image Source: Shenzhen Happy Valley)
The AR Doomsday Battlefield creates an immersive AR interactive shooting experience. Players take on the role of sharpshooters, tasked with shooting virtual zombies in front of them. Players use ultimate skills to attack a large surrounding area, or call out shields to protect themselves from incoming attacks, constantly moving, dodging, and attacking, to destroy all enemies.
(AR Doomsday Battlefield. Image Source: Shenzhen Happy Valley)
When fully charged, these type of AR devices can be experienced for around an hour. When the battery is almost depleted, an automatic reminder pops up. In addition to the service booth for the redemption and return of the AR glasses, Happy Valley Shenzhen has also set up 5 charging stations across the park, which is a short 10-minute walk between each charging station. Using a concept similar to the GOGORO electric scooter charging station, players simply need to replace the depleted battery for a new one, and continue enjoying their AR experience.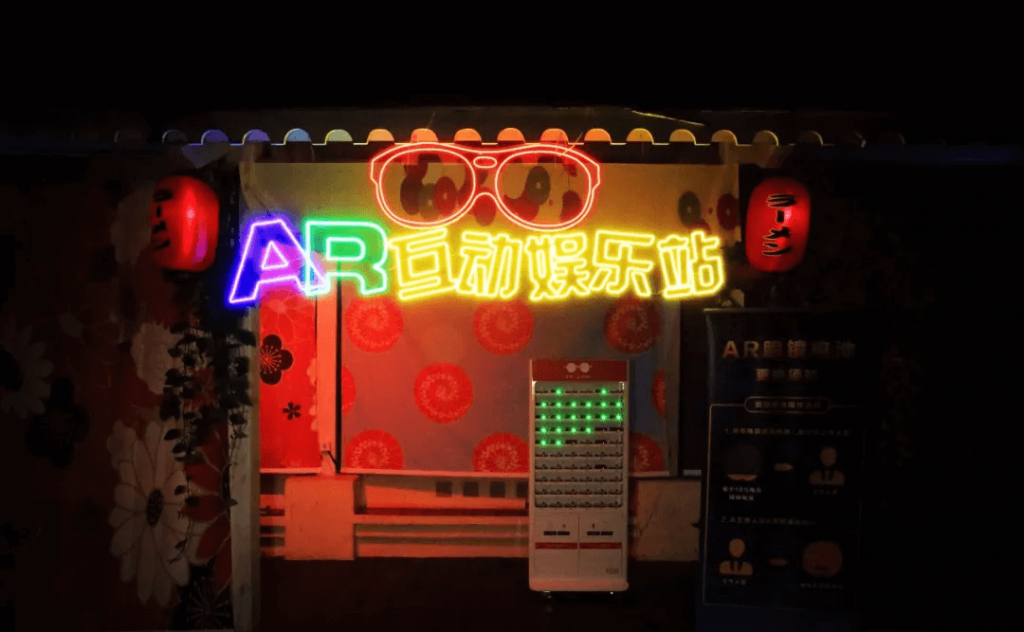 (AR glasses battery station. Image Source: Shenzhen Happy Valley)
The Shenzhen Happy Valley AR Experience: Behind the AR Glasses
This AR experience was a collaboration between Shenzhen Happy Valley and Pacific Future. The CEO of Pacific Future, Li Jianyi said that there are more AR experiences to be launched in the future, and they are working on incorporating more interactive content.
According to VR Tuolo, the AR glasses launched by Pacific Future have an official Field-of-Vision (FOV) of 52 degrees, a screen resolution of Full HD 1920X1080, and supports gesture recognition, object recognition, AI, 3D human motion capture and other functions. This processor uses Qualcomm Snapdragon 835, with a RAM of 4GB, 64GB storage capacity, battery capacity of 4700mAh, and runs on the AMglass SDK developed internally by Pacific Future. As one of the first large-scale commercial applications of AR glasses, the specifications of the hardware were good, and the event was a running success.
(AR glasses used in Shenzhen Happy Valley. Image source: VR Tuoluo)
AR Theme Park Experience: AR Ghost Ship for E-DA Theme Park


(Image Source: E-DA Theme Park)
There are also examples of amusement parks in Taiwan that have upgraded the theme park experience through the integration of AR. E-DA theme park in Kaohsiung upgraded their 5D Ghost Ship into an AR Ghost Ship, where visitors use the marq+ app to scan the QR code prior to boarding. The mobile is transformed into a radar detector, which help during the exploration of the ghost ship. As they are exploring, visitors receive calls from ghosts, and discover the hidden stories and secrets as they pass through the different cabins.
AR Theme Park Experience: Creating a New Experience
There are many benefits of integrating AR technology in theme parks, these include:
Creating new scenes within existing areas
Through the use of AR glasses or even AR interactions on visitors' own mobile devices, the existing surrounding areas of the theme parks can become an entirely new world through AR lenses, seamlessly linking real people and objects with virtual ones, achieving a combination of virtual and real-world interaction.
Simplifies the navigation process
As theme parks generally occupy large areas of land, there are many indoors and outdoors facilities, where visitors sometimes find it hard to navigate. This is where AR comes in, integrating with Location-Based Services (LBS), not only accurately determining the location of visitors, but also allows visitors to figure out the location and direction of different attractions in a simple and intuitive way – no more getting lost while trying to navigate across the theme park! Visitors can also communicate with the information desk, who can provide real-time answers to any questions they may have.
Exclusive events generate hype and interest
The rides in theme parks don't normally change, and sometimes visitors may be hesitant to return because they have already experienced it before. The launch of exclusive, limited-time events, especially one combined with AR, provides an incentive for return visits to gain a new experience. This also catches the eyes of new visitors, creating new business opportunities.