Augmented Reality – Revolutionising the Museum Tour Experience
Integrating AR into museum exhibitions and displays, enriching the museum visit and unleashing limitless possibilities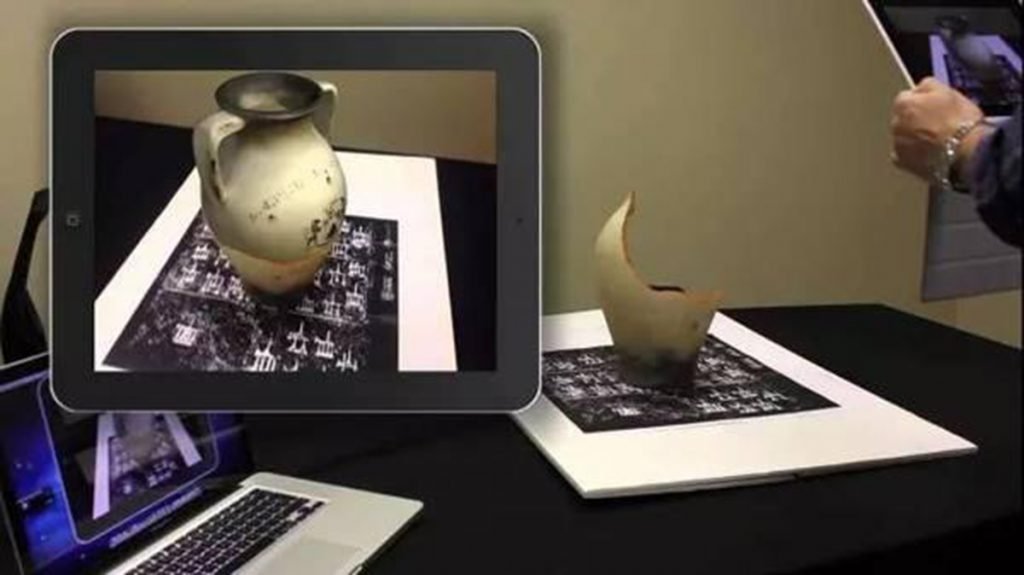 (Using AR to recreate how the exhibits looked in their original prime. Image Source: Google)
Museums play an important role in our society. They are responsible for the collection, preservation, research, and exhibition of artifacts with historic significance, with the purpose of providing education, as well as entertainment to the general public. In recent years, AR applications have become more and more comprehensive, and become used in many industries. Compared to virtual reality (VR), AR is so much more convenient, and easily accessible, requiring only a mobile device or tablet to enjoy the full interactive experience.
Many tech giants are invested in the development of AR software, with Apple CEO, Tim Cook saying, during an interview, that AR is "the next big thing," and that AR, coupled with artificial intelligence (AI) will "change the world"; Google launched their AR platform – ARCore, and began a collaboration with museums and art gallery around the world, launching the Google Arts and Culture app that allows users to visit a virtual museum from the comfort of their own homes.
With this being said, AR is an important stepping stone in the transformation of global competition, and drastically affects the consumer purchasing behaviour today.
AR for Museums | Guided AR Tours
According to critic, curator, and academic Robert Hewison, "Museums are much more than repositories of objects; they are meeting places for people and ideas. Their future depends on remaining a dynamic part of the public realm." The key to the survival of museums, especially in this crucial time of change, is to remain dynamic, to introduce new ways of experiencing the museum, through apps that utilizes new technologies such as AR and image recognition, and so on.
Utilising AR for guided navigation has gradually become a new trend for viewing exhibitions in galleries and museums. In the museum of the future, there will be no need for physical guides, with the AR guides directly appearing on our personal mobile devices instead. As there is a story behind each carefully curated exhibition, only a few lines of text descriptions are not enough to satisfy the true fanatics who want a more in-depth understanding on the full story.
Since as early as 2012, the London Science Museum has already been using AR technology in the museum, and sees the host of BBC Top Gear, James May becoming a virtual guide in the Science Museum. Simply launch the application on your mobile phone or tablet, and point the camera towards the identifying image. A holographic version of May hovers over the plinth, sharing all sorts of facts and information about these particular exhibits, adding an interactive layer of information on top of museum tour experience.
Guided tours in AR halls have gradually become a new trend for viewing exhibitions. In the future, there will be no need for guides. Guided tours in AR halls can directly appear on your mobile phone to guide you, because each exhibit has a meaningful creation behind it. Background, for exhibition depth lovers, only a few lines of explanatory text cannot satisfy the audience. As early as 2012, the Science Museum of London, UK, had already used AR technology in the museum, and invited the well-known BBC host James May to use AR technology to create a virtual tour guide. You only need to open the application in your mobile phone or tablet and use the camera of your mobile phone. After aligning the identification map of the mark, an image of the host will appear on the screen for explanation, adding to the interactive nature of the museum tour.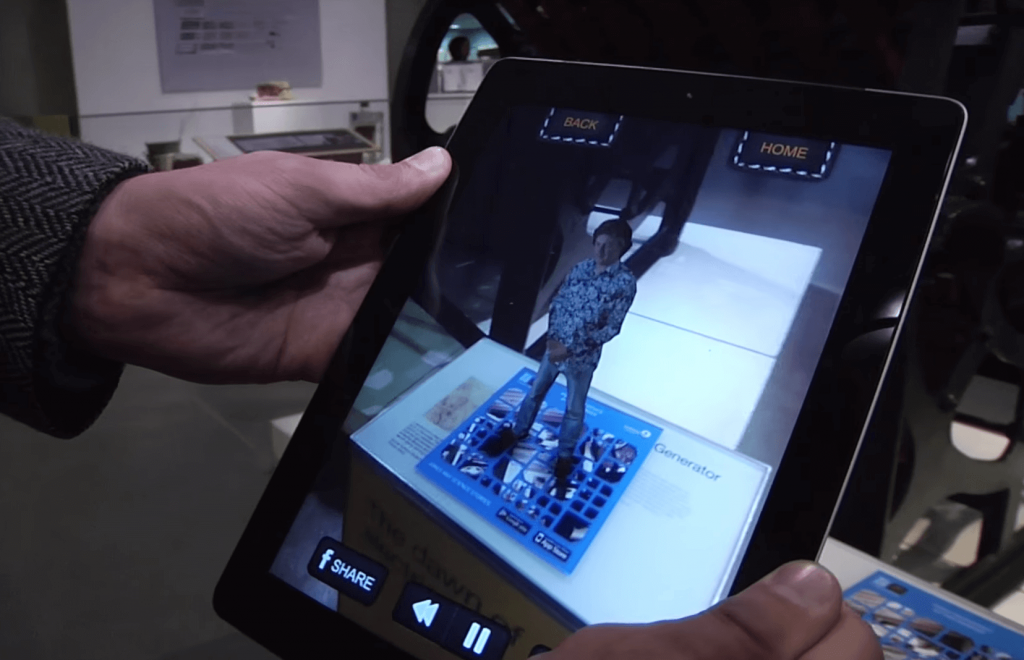 (Integrating AR technology to create a new exhibition experience at the London National Portrait Gallery. Image Source: Smartify)
The Smartify app combines AR technology with image recognition to elevate the museum visit. Providing custom audio guides, maps, and a dedicated venue page, supporting users through each step of the journey. In addition to that, users can also save and "collect" their own artworks in the app, to view whenever they like. 
AR for Museums | AR Applications Beyond the Surface
(A dynamic Mona Lisa through the power of AR. Image Source: Google)
Exhibited paintings, fossils, or specimens come to life through a combination of AR and 3D modelling technology. Similar to the moving newspaper and portraits in the magical world of Harry Potter, AR technology allows users to feel the welcoming "warmth" of these exhibits, seeing the objects move as if they were alive. This adds more entertainment and excitement to these exhibits, allowing us to see a different side to what is currently on display.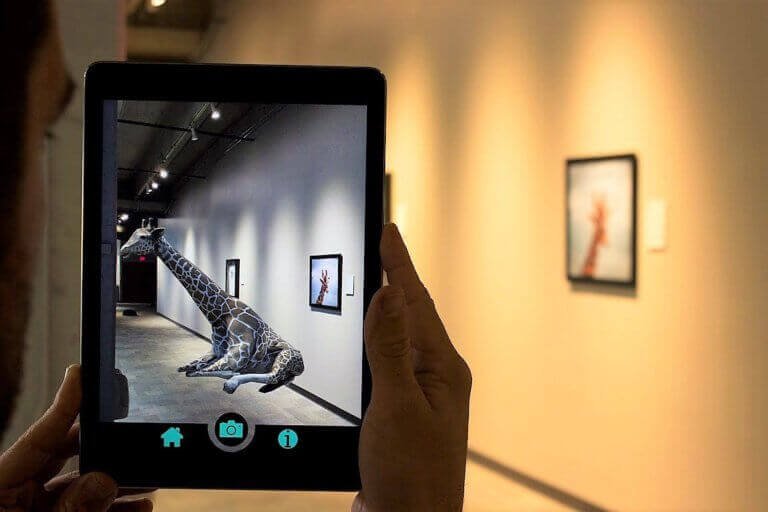 (Image Source: Catchoom)
AR for Museums | Restoring the Original Appearance of Exhibits
(Image Source: Smithsonian Magazine)
AR technology can also "resurrect" animals that we have never before seen in this lifetime. After launching the AR app, simply point and aim the camera at the fossils in the museum, and it can recreate what these animals and objects that existed tens of thousands of years ago looked like, in a way, bringing them back to life. Things beyond our wildest imagination, seeing these animals and beings that roamed the earth long before our existence come alive in front of us, simply achieved through the power of AR. 
The Smithsonian's National Museum of Natural History has an extensive collection of prehistoric bones in their collection, exhibited in their Bone Hall. Now, with AR technology, we can simply download the Skin & Bones app on the App Store and see what these bones looked like as animals roaming the earth. See how the Anhinga "Snakebird" fishes with its spear-like beak; Watch as the vampire bat flies from its cave. Even if you cannot visit the Smithsonian in person, you can download the Skin & Bones app and the trigger images, and get the full AR experience from the comfort of your own homes.
The Franklin Institute in the US launched an AR exhibition that allowed visitors to take a journey through one of the most significant archaeological discoveries – the Terracotta Warriors of the First Emperor. Using AR technology to reproduce the terracotta warriors and horses, and all their weapons and equipment, this AR experience allows visitors in the US to see the terracotta warriors come to life all the way from where they are on display in Xi'an, China.
AR for Museums | A Revolutionary New Museum Experience
Looking at the different cases introduced above, it is obvious that AR technology plays a big part in the revolutionization of the museum-going experience. AR helps to transform exhibits and collections into a visual experience, and museums tap on these emerging technologies to communicate more effectively with the general public, creating a more interesting and engaging learning environment. Through interactive experiences and AR games, turn education into a fun experience that allows visitors to become fully immersed in the fascinating storylines. These stories and experiences can even be brought home from the museum, and recreated in different ways during the visit, so that there is always a new, refreshing offered, reducing visitors' fatigue.
AR provides a different way for people to browse exhibits and navigate through museums and galleries. We foresee that there will be a deeper and more complex integration of AR and VR technology into the museum industry in the very near future. Although there are still certain limitations to AR technology, it has proven effective in playing up the social and educational functions of the museums, injecting life into how museums are perceived by the general public, promoting museums visit as modern and interesting. We look forward to more museums and galleries embracing AR technology in their exhibits, innovating the museum-going experience.