AR in Fashion: Makeup, Fittings, and more!
Fashion brands use augmented reality to create an innovative shopping experience for the modern consumers 
(Image Source: L'Oréal)
According to market research, around a third of US consumers have experienced AR at some point, showing considerable interest in emerging tech such as AR and VR. This is an important factor for brands to consider when thinking of how to approach their target consumers: what kind of experiences these consumers may consider important, as well as how to generate more attention, effectively generating positive brand exposure.
AR has been readily adopted into the fashion industry, especially more so in beauty industries. For example, global beauty corporation L'Oréal announced last year that it acquired Modiface, a software development company that specialize in creating AR tech for beauty brands, in an attempt to seize the beauty digital market using AR.
In 2019, American cosmetics brand Lime Crime collaborated with Forever 21's home beauty brand, Riley Rose, launching an AR app which uses digital strategy to provide an additional layer of consumer experience to young, mobile savvy consumers, which is the general target audience of these two brands. This is an innovative way for brands to communicate with new and existing consumers alike, providing a stronger impression and generating brand loyalty.
(Image Source: Lime Crime)
Apart from the beauty industry, fashion industries such as apparel and footwear see successful AR applications to their current marketing strategies.
Spanish clothing brand ZARA launched their first AR experience in 2018, with aims of attracting young consumers to their physical stores. The experience is easily accessed, simply download ZARA's AR app, then point the camera of the mobile phone towards the store window or the ZARA packaging, and consumers are immediately teleported to a live fashion show, right where they are. Consumers can see the current clothing trends worn on virtual models, and can even purchase them directly from the app. There is also a photo option, where consumers can capture these moments and share them with friends and family anywhere.
AR for Fashion | Balmain​
No stranger to thinking outside the box, Balmain also started incorporating different technology applications in their marketing strategies. One notable example is when they provided Oculus VR headsets in the newly opened Milan store, where shoppers get a chance to watch Balmain creative director, Olivier Rousteing's creative visions come to life through an innovative VR experience titled My City of Lights.
In 2019, Balmain ventured into AR for advertising and communicating with their target consumers. Through scanning the Balmain posters on the street of Paris with the Balmain app, users can see hidden messages, and find out more information about the brand, giving more attention to the brand's communication method, and understanding more about the brand story.
In addition to that, consumers can use the app to view information about any events, or watch a live stream of the latest catwalk shows, such as their annual fashion shows. Balmain believes that AR can be an effective communication tool with consumers, and encourage a two-way consumer engagement.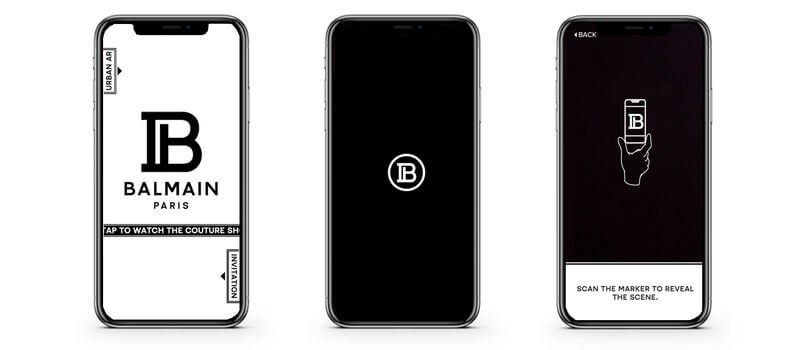 (Image Source: Balmain)
One of the main concerns of online shopping is buying the wrong size, and the hassles of returns, with one in four consumers citing these as the main reasons they hesitate to shop online. Over 500,000 people in the US have experienced this hassle of buying wrong shoe sizes, and at any point of time, almost 60% of them would be wearing the wrong shoe sizes.
In July 2019, Nike Fit launched in the US, becoming one of the first companies to launch a new function which allows consumers to measure their shoe sizes. Noting that the internal cushioning of each design of shoe may vary, consumers may find it easier to purchase their Nike shoes through the app.
(Image Source: NIKE)
With many brands actively investing in AR technology, looking at the examples of ZARA and Lime Crime, who aim to increase the consumer conversion rate through both online and offline channels; Balmain, tapping on emerging technology to reach and communicate with consumers; and Nike, using AR to solve consumer sizing issues, each brand has found specific areas that highlight and addresses the different needs of different consumers.
As you can see, AR is a versatile technology which can be adapted in any part of the business marketing strategy, creating a more positive brand experience in consumers' eyes, and we look forward to more brands adapting AR solutions in the coming future.